South Central Missouri's Trusted


Storm Shelter Installation Company
Let Titan Help Protect Your Family or Employees
Harsh Missouri storms can threaten the safety of you, your family and your employees. You need a reliable emergency plan to give you peace-of-mind and increase your chance of survival. Having a safe place to shelter during severe thunderstorms, hurricanes and tornadoes can mean the difference between life and death. Titan is the storm shelter company that your South Central Missouri neighbors depend on for professional storm preparedness services.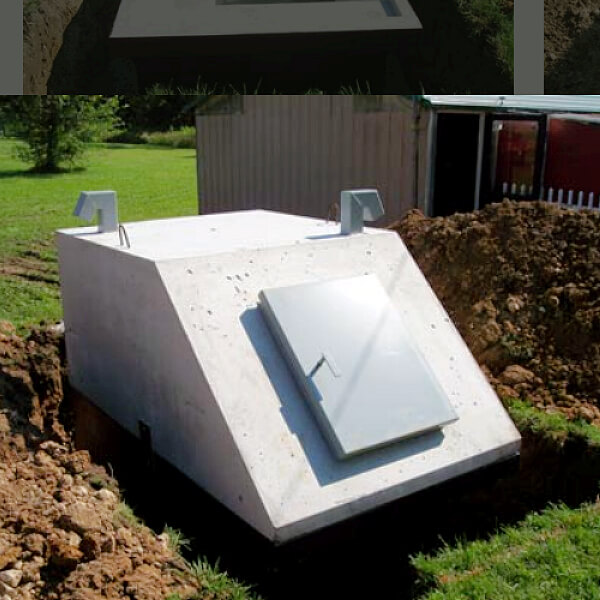 The Storm Preparedness Experts
As a storm preparedness expert, Don Mutz, owner of Titan Yard Drainage, Paving and Grading, can help ready you for the next natural disaster that threatens your home or commercial property. Don can create a comprehensive weather emergency plan that incorporates stormwater drainage, landscaping, and a sturdy, easily accessible under- or above-ground storm shelter for your residential or commercial property. Our tornado shelters exceed your Missouri township's wind load codes, withstanding up to a category five hurricane and wind speeds over 90 mph. Titan's stormwater management experts take a comprehensive approach to storm preparedness that includes designing and installing an effective yard drainage system to prevent groundwater accumulation, making your storm shelter a safe, accessible and dependable refuge for your family or employees.
We Design Storm Shelters for Your Needs
At Titan, we know how stressful it can be to wonder whether the next storm could threaten your family's well-being. As Missouri storm shelter contractors, we're committed to helping you develop a storm preparedness plan that enables your loved ones to protect themselves. That's why Missouri home and business owners rely on us to provide them with under- or above-ground customized or prefabricated storm shelters and root cellars to shield them during hurricanes, extreme thunderstorms, high winds, tornadoes and Doomsday events. Whether you need to provide refuge for your family or a large staff of employees, our storm shelter installers can build a reinforced steel, concrete or wood storm shelter that meets your specifications and also provides you with enough space to store food, firearms and other necessities.
Stormwater Accumulation Can Be Dangerous and Costly
Inadequate stormwater drainage causes soil erosion that makes growing a healthy lawn or garden impossible, but your yard's drainage issues can have even more disastrous results. Standing water promotes insect infestations that can be a health hazard to pets and family. Groundwater accumulation puts pressure on your home or commercial building's foundation that can cause structural damage, and can even make it impossible for your family to reach shelter during a violent storm. Not only does groundwater accumulation make your yard unsightly and unsafe for your family, but the cumulative effects of your yard's drainage issues can severely reduce the value of your home or commercial property.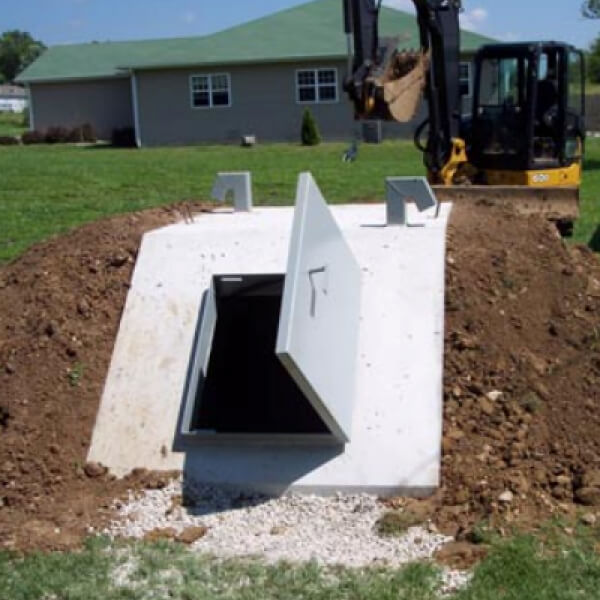 Increase Your Home's Value with Titan's Reliable Storm Shelter and Yard Drainage Solutions
An integral part of emergency planning is ensuring that groundwater accumulation won't prevent you from accessing your storm shelter. Don Mutz and the Titan team have been fixing residential and commercial yard drainage issues for over 17 years. Our experts can fix your property's existing yard drainage issues while also preventing new drainage issues from developing, so you can be sure your storm shelter will be accessible to your family or employees during a storm. Before installing your storm shelter, Don and his team will regrade your property correctly to discourage groundwater from pooling on your lawn. We'll install a catch basin and a series of underground drainage pipes to divert water to a nearby road, as well as underground dry wells to collect rainwater that can't be drained directly to the street. Water collected in the dry wells will seep naturally into the earth or exterior sump pumps. The storm preparedness and yard drainage experts at Titan can help increase the value of your home or business and protect your family or employees from harsh storms by eliminating your yard's water drainage issues and installing a reliable storm shelter on your property.
The Right Equipment for the Job
We Use Specialized Equipment To Deliver Professional Results
Don Mutz and his highly experienced team will use specialized equipment to accurately grade your property and install a dependable water drainage system before installing a top-quality storm shelter. Our ability to minimize damage to your property and achieve extraordinary results by using the most advanced equipment has earned us our reputation as a top landscaping and water drainage contractor in Missouri. At only 39 inches wide, the Bobcat E20 fits easily through most gates, eliminating damage to your property's fencing. The Bobcat A770 has all-wheel steering, making it safe and effective for us to use on lawns, concrete, pavers and asphalt. The Toro Dingo has fat tires and a compact profile, allowing us to easily maneuver in tight spaces while minimizing damage to your property and lawn. We use state-of-the-art grade-control technology when excavating piped trenches to prevent the pipes from settling and causing future drainage issues. Our laser-guided excavator provides us with precision grading control, and our high-speed cultivator helps us expertly prepare your land. Because we prepare your yard correctly, you won't experience drainage issues caused by future soil erosion or pipe settling. You can depend on the Titan professionals for expertly designed and installed landscaping drainage systems!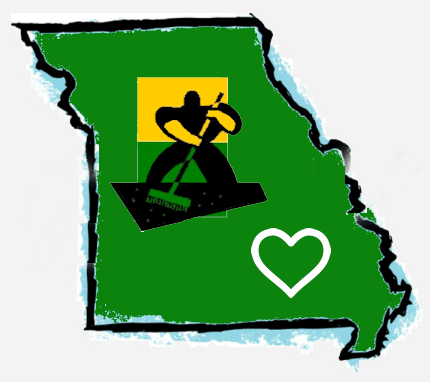 Titan Up Your South Central Missouri Property
Titan paving, yard drainage, landscaping, and outdoor kitchens proudly serves the South Central Missouri area, including:
Licking
Waynesville
Sullivan
Steelville
Houston
Jadwin
Doss
Rhyse
Lennox
Why Missouri Residents Love Titan's Approach to Storm Shelter Installation
Don Mutz's integrated approach provides your property with adequate stormwater drainage and a sturdy, accessible storm shelter to protect your family or employees during violent Missouri weather. Titan is dedicated to providing you with customized, cost-effective solutions that enhance the value and functionality of your property.
Storm Preparedness Expertise
With over 17 years of experience with yard drainage issues, we have the insight and specialized skills we need to address your residential or commercial property's stormwater management issues. We'll design an integrated storm preparedness system that includes a properly landscaped yard with a dependable yard drainage system and a top-quality storm shelter to protect your family or employees.
Customized, Cost-Effective Storm Preparedness Solutions
Don Mutz develops individualized, cost-effective stormwater management and storm shelter solutions for each of his clients. He'll tailor each of our yard drainage, landscaping and storm preparedness to the specific traits of your South Central Missouri property.
Specialized Equipment
We use state-of-the-art equipment to provide each of our Missouri clients with dependable, effective drainage solutions and landscaping that makes our top-quality storm shelters accessible and reliable during harsh storms. Our equipment allows us to install your water drainage system and storm shelter with precision while minimizing damage to your property.
Outstanding Customer Service
We make it stress-free for our Missouri clients to have a storm shelter designed and installed, and we always stand behind our work. Our clients enjoy working with us and consistently recommend us to their friends and colleagues.
Complete Solutions
Titan is the South Central Missouri storm shelter contractor with the insight, skills and specialized equipment to accurately evaluate your yard and your family's storm preparedness needs. We'll determine the optimal drainage, landscaping and storm shelter solutions for your residential or commercial property. We're committed to enhancing the functionality and value of your property while providing you with excellent customer service and dependable storm shelter solutions that will keep your family or employees safe from harm. Missouri residents are impressed with our comprehensive storm preparedness solutions.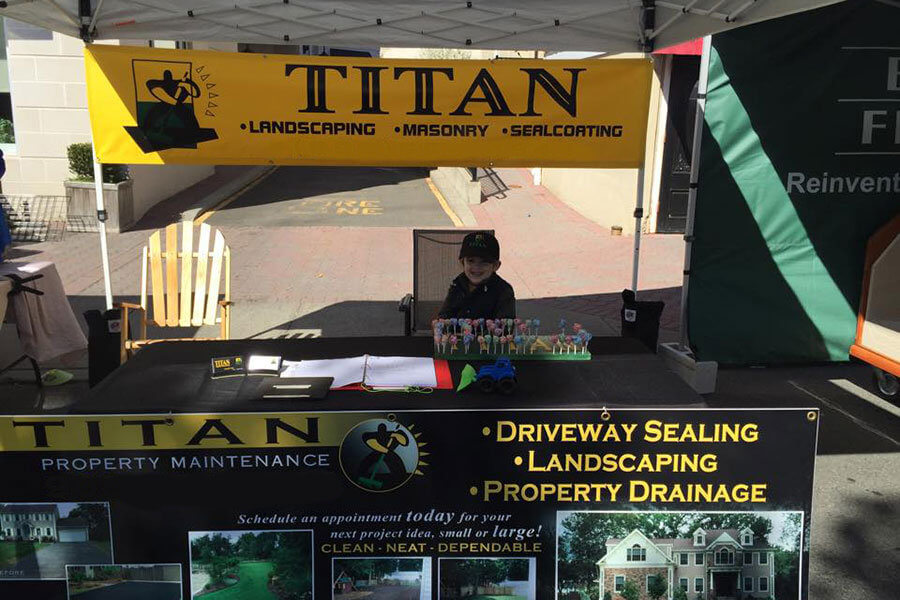 Titan Up Your Property Today!
The professionals at Titan have the wisdom, expertise and specialized equipment to diagnose and correct your property's maintenance issues and enhance the appearance of your residential or commercial property. Don Mutz is committed to providing you with exceptional customer service and developing customized, cost-effective yard drainage, paving, landscaping and storm shelter solutions that will result in enduring improvements to your home or business. We consistently deliver outstanding results that earn us positive reviews from our clients.
Schedule Estimate
Call Titan today at (573) 453-6379 to learn how our property maintenance experts can enhance the appearance, safety and functionality of the property surrounding your home or business.